Article about how IDW turned Transformers into Gay Robots Eating Pudding
BBC: Transformers: Misfit robots and the women who love them
Pedobots, roll out!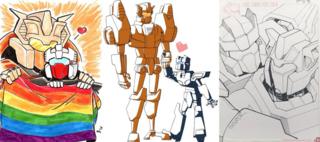 An initial positive reception emboldened Roberts, leading to his favourite moment - issue 16, the "declaration of love" between two same-sex Transformers characters, Chromedome and Rewind. It was "a first".

"In the nicest possible way, it became normalised. The world didn't come to an end. That reaction gave me and others the confidence to tell more stories like this," says Roberts.

...

"As far as I'm aware they're gay," says Barber, though he insists he does not want to "label" any reader's impression of the pair.

"It's important everyone can see themselves in the stories they read, and also to see people with other perspectives and different lives."